Mobile fryer service continues to grow: Thomas Welp boosts sales and franchise support at FiltaFry
Mediatiedote FiltaFry, Emsbüren, 07.03.2019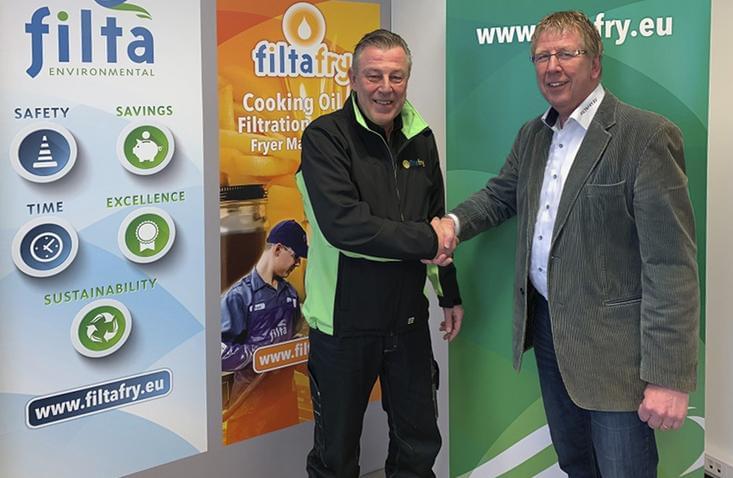 Bild: Left: Thomas Welp, new Business Development Manager at FiltaFry; Right: Jos van Aalst, Managing Director, FiltaFry Deutschland
© Foto: FiltaFry
Over the past few weeks, several new franchise partners began operations with FiltaFry, the mobile full-service fryer management company, including in Düsseldorf, Upper Bavaria, Berlin/Potsdam as well as Frankfurt am Main. Viennese restaurateurs and caterers have also recently been able to have their fryers cleaned and their oil filtered, thus operating more sustainably while saving costs. In Spain and Finland too, the first franchisees have recognised the potential and signed on to FiltaFry.
In order to guarantee franchisees and customers the high standards to which they are accustomed as well as personal support, Thomas Welp is taking on the position of Business Development Manager with immediate effect. Among the 56-year-old sales and marketing specialist's tasks is above all, supporting franchise partners across the country in sales and distribution.
Welp reports to Frank Hartong (40), who now occupies the role of Operations Director at FiltaFry Deutschland. In addition to the German business, his focus is increasingly turning to the establishment and expansion of FiltaFry locations throughout Europe.
"I am thrilled that we were able to recruit Thomas Welp for FiltaFry", says Managing Director Jos van Aalst. "Thomas actually comes from the IT sector and for decades, has been a sales and distribution professional with employee responsibility. With his additional experiences as an entrepreneur, he brings to the table exactly the kind of know-how that we need as a growing franchise company".
---
Yritystiedot FiltaFry
FiltaFry on vuodesta 1996 alkaen erikoistunut rasvakeitinten käyttöön liittyviin palveluihin ja toimii nyt jo useissa maissa. Suomeen FiltaFry tuli 2019 ja se on maan ainoa yritys, joka tarjoaa rasvakeittimiin liittyvän liikkuvan täyspalvelun.
---
Mediatiedote PDF